Jaq Jaq Bird - Reusable Chalkboard Products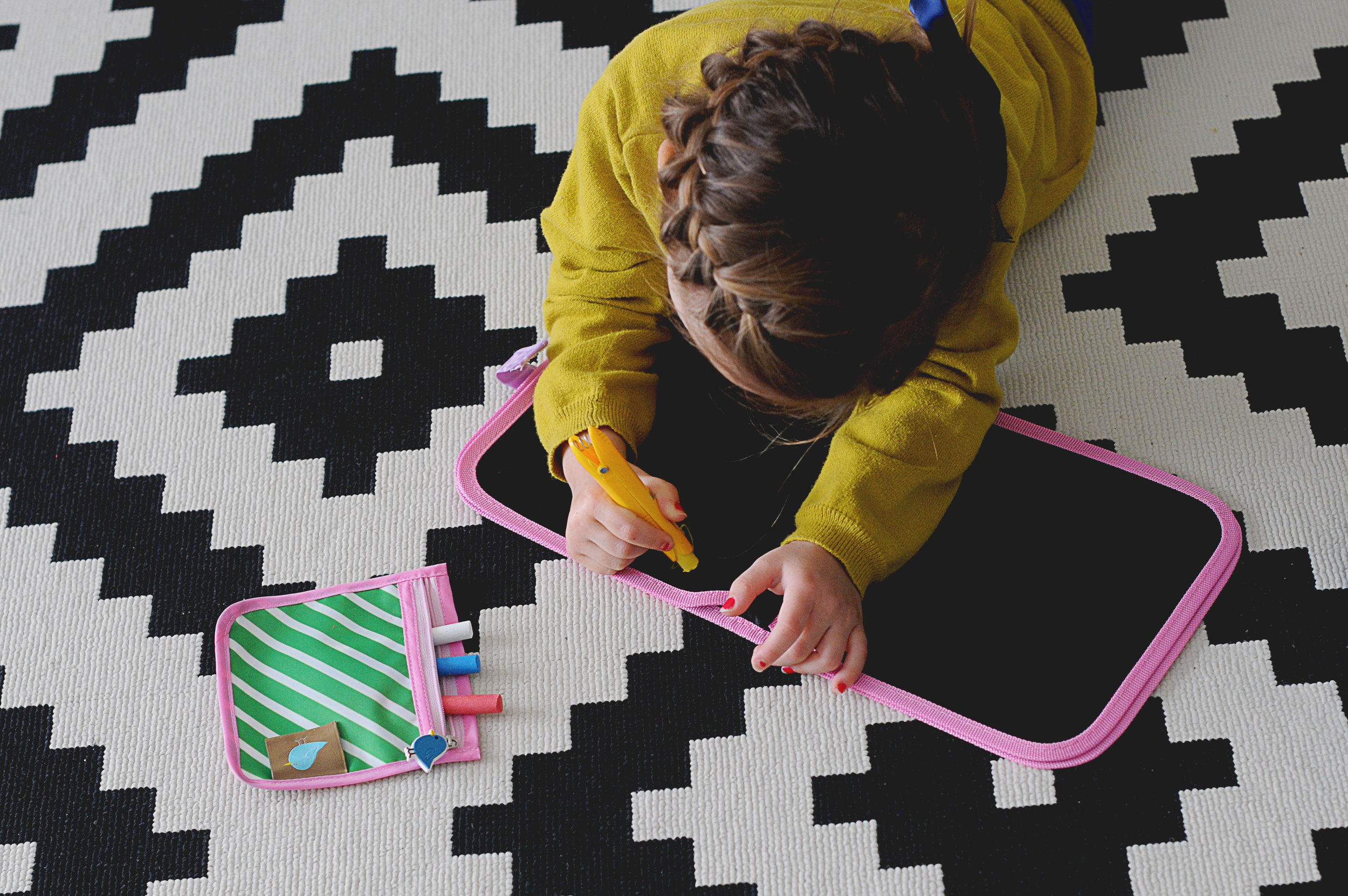 What could be better than reading a story? Your child creating their own, again and again.....
Inspired by a little girl who would repeatedly waste paper by creating stories in her notebook, then crumbling up the pages, only to start a new story all over again, her Mummy invented the original, reusable 'Doodle Now & Go' Book.
Revolutionary, and patent-pending, this beuatiful 8 page 'Doodle Now & Go' Book provides an endless landscape for your child's creative energy.
It's great for home, eating out, planes, cars, and just about anywhere your child has idle time. A brilliant alternative to screen time for firing imaginations and practicing fine motor skills
It comes with the exclusive Zero Dust™ ButterStix™ (4 pcs). So not only will you save paper, but cleaning afterwards is a breeze. A match made in heaven.
A range of beautiful cover designs are available
Chalk 'Colour It' books
Just like our doodle book, our 'Colour It' series has 8 pages, but as well as 4 blank pages (for their own work), our Colour It range includes a set of gorgeous pictures of for your little one to colour.
Chose from Space and Dinosaurs or from our 'Artist range which includes iconic paintings for your child to colour from Monet or Degas.
Each book comes with the exclusive Zero Dust™ ButterStix™ (4 pcs). So not only will you save paper, but cleaning afterwards is a breeze. A match made in heaven.
ChalkBoard Table Runner / Poster
The new Jaq Jaq Bird® Chalk Table Runner™ is perfect for hosting parties, play dates, and tail gating! Use it as a banner for birthdays, and for endless fun on rainy and snowy days. Great for hostess gift, house warming gift, birthday gift, etc.
The possibilities are endless!
Comes with our unique, patented ButterStix™-ZERO DUST Chalks™ and our magnetic chalk holder.
It comes in a beautiful gift box and makes the perfect gift!
Blank Slate Wall Chalkboard Decal (Re-positionable and Reusable)
After many requests from customers for a reusable chalk wall decal, we finally launched a non-toxic decal! At 18 x 79 inch (45cm x 200cm), our Blank Slate Chalk Wall Decal features:
4 Butterstix with Buttertstix holder. Our patented chalks have zero dust.
A large decal that is designed for endless possibilities from to-do lists to bedroom doodling
Grid back for easy straight cutting
Self adhesive: to stick to most smooth, clean and flat surfaces
Easy clean peel on + off to re position
Banderia
Keep stylish & organized with our new Banderia, designed specifically for Jaq Jaq Bird's ButterStix® and Wishy Washy Markers. It doubles up as an artists apron (to have all of your tools close to hand) and a wrap to contain your chalks / wishy washy marker
ButterStix - Dust Free Chalks and Holders
Do you love chalk but hate the feel and dust? That's exactly how we think too. After years of working with a supplier, we finally developed an exclusive perfect formula of Zero Dust™ Chalk, called ButterStix®. They work and feel a bit like pastels as it glides smoothly on most-non-porous surface.
Not limited to chalkboards, you can write on most non-porous surfaces: use on walls, plates, counter, etc. Your imagination is the only limit! Great for labeling containers, beer & wine parties, and more!
No Dust. No Stains. No Mess.
12 ButterStix® in a pack, completely safe for kids, comes in a variety of colors. Wipe with a damp cloth.
Wishy Washy Markers (pack of 9)
Wishy-Washy markers are a revolutionary way of drawing on paper, plastic, white/chalkboard, windows, etc.. Colors are vibrant, and there is virtually no-smell. Wipes up on non-porous surface. Please note, it does not erase on paper.
Contains 9 Colors: Red, Purple, Yellow, Orange, Black, Green, Blue, Pink & White! Tip is 4.5mm
Because creative kids shouldn't have to be decisive, they can erase & draw over and over again..Just wipe with a wet cloth to erase. Non-toxic, & certified CE. Writing products cannot be returned.