Nutri Fill-It FAQs
How do I fill it?
Make sure the lid is securely in place (you don't want your smoothie to pour straight out of the bottom!)
Open up the 'double zip lock' on the bottom our your pouch and hold it upside down to fill
TOP TIP: It can help to stand you pouch upside down in a jug / pint glass etc
Pour / spoon your treat into the large hole at the bottom and fill up to the 'Max Fill line'
Squeeze out any extra air in the top and close the 'double zip lock' making sure you hear the click when it comes together
Give it a little squeeze to make sure you have sealed all along and nothing is coming out
Wipe up any spills and if required mark on the white label section with a non permanent pen to remind you what it contains
Place in the fridge (or even better in the freezer) to store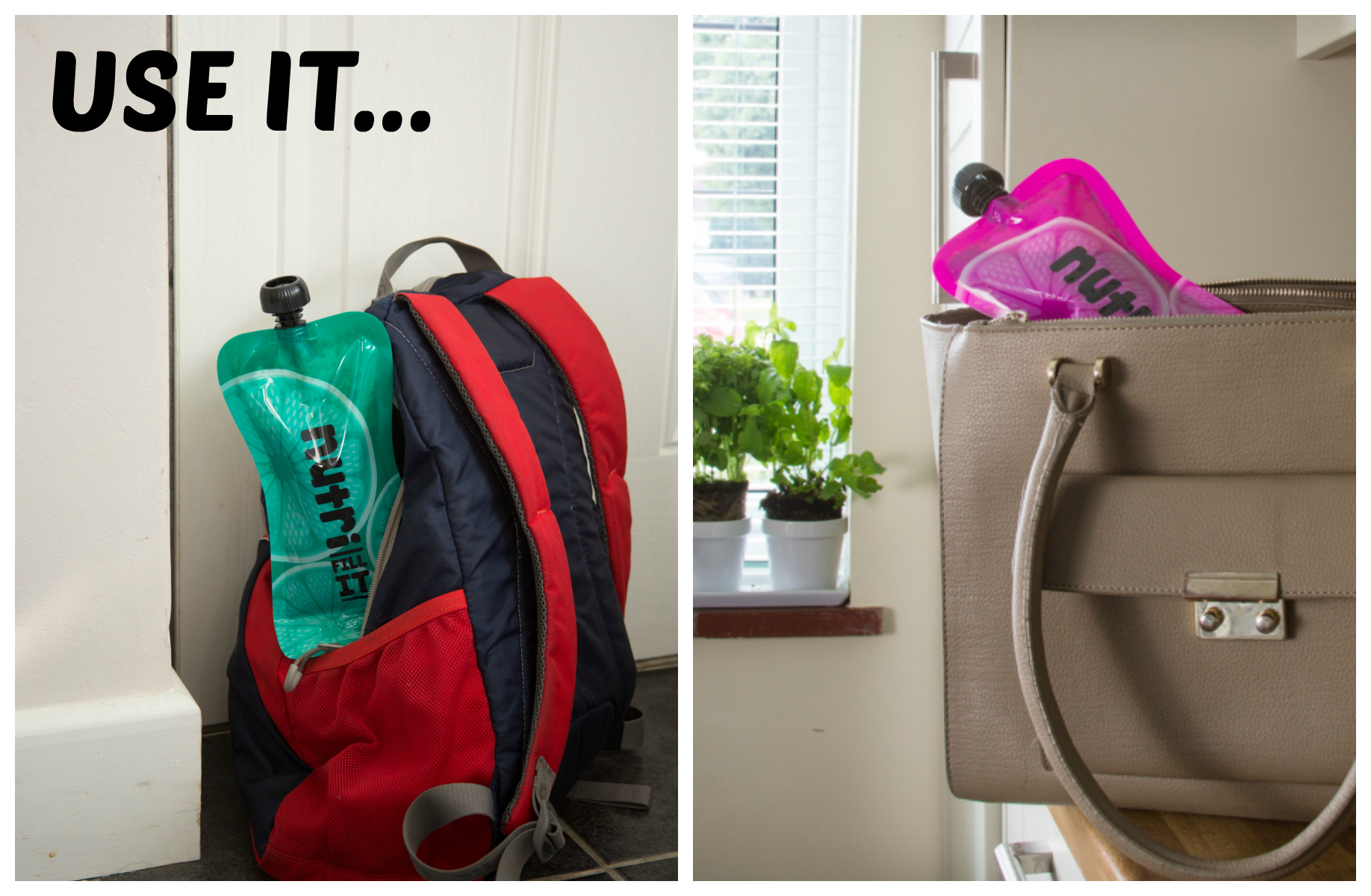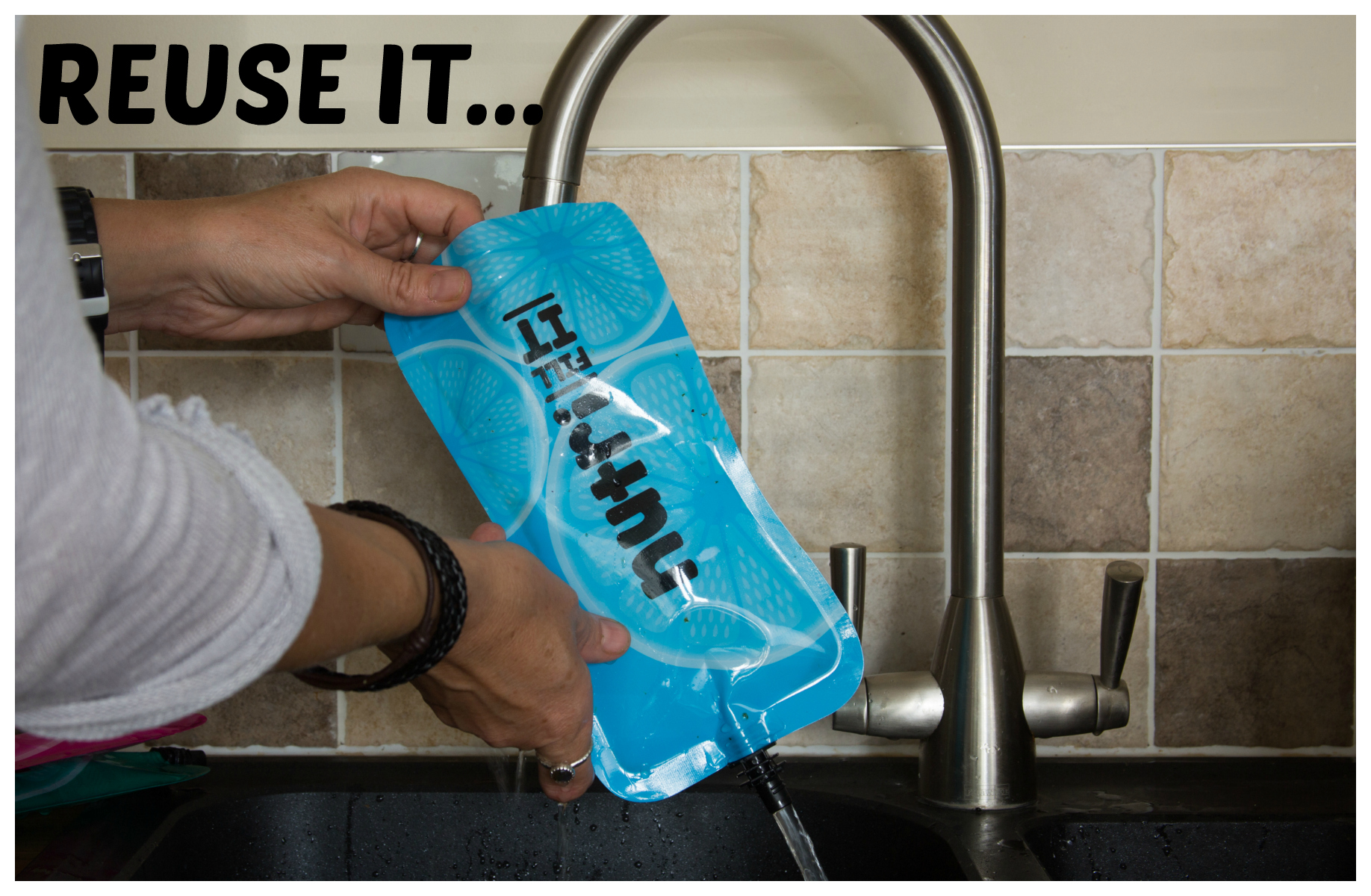 For more information and pictures please see our How to Use page
How much liquid does it hold?
Nutri Fill-It pouches are designed to hold 300 mL up the max fill line. We don't recommend over filling as this can result in leaks.
Can I freeze it?
Yes you can. Fill to the Max Fill line and squeeze out any excess air. Seal with the 'Double Zip Lock' and store in the freezer (we find the best use of space is to store them flat). This is an extra bonus as by packing straight from the freezer your pouch doubles as an ice pack and will be the perfect consistency by lunch time (with the help of some warm hands!)
How do I clean it?
By Hand...
Remove the lid and rinse it. Open the double zip lock and put your tap inside the pouch. Most smoothies should rinse straight out. If you have any stubborn bits you can use a bottle brush and a little detergent to remove them
By Dishwasher...
Remove the lid and place it in the cutlery tray. Open the zip loc and place 2/3 prongs into the bottom of your pouch (on the top shelf) to keep it open. Wash as normal. Please note Nutri Fill-It has been tested with residential dishwashers on standard cycles and has not been found to damage the pouch. Extreme heat will degrade the pouch over time so we recommend that where possible you hand wash or use a cooler cycle to maintain the life of your pouches.
For more information and pictures please see our How to Use page
How do I store Nutri Fill-It when not in use?
Dry your pouches with the zip lock open and the lid off. They can be placed with the bottom open on a draining board or in the sun to dry naturally. Alternatively a dry bottle brush and a tea towel can be used. Store your pouches (where possible) with the zip lock open and the lid off to enable them to air.
Can I heat it?
We do not recommend boiling your pouch and it is not suitable for microwave use. If you do want to heat the contents / warm it you can place in a bowl of hot water
Can I use it for Water / Other Drinks?
Technically the pouch will hold liquids but we don't recommend it as the spout is intentionally wide for smoothies and can result in fast flow and a soggy front!
Will Nutri Fill-It leak?
The pouch has been rigorously tested by both children and adults and has been found to be leak-proof. The pouch is designed to be very durable and only the highest quality plastics have been used. Do make sure the Double Zip Log has been completely secured and that the lid is on firmly. Once you have done this you can pack a worry free snack!
How many times can I re-use?
The pouch is designed to be used up to 100 times with the right care (i.e. regular washing and air drying). If you have a problem with your pouch please Contact Us here.
Shipping
We charge a flat fee of £2 for UK shipping. We offer worldwide shipping at a flat fee of £6 for Europe and £8 for everywhere else
Wholesale
We have a few stockists (see our Stockists page) and are always looking to expand. Please Contact Us for more information
Anything else?
If you have a question we haven't covered here, please Contact Us